Company profile of KON-FORM Kunststofftechnik GmbH
For more than 30 years, KON-FORM has been setting quality standards in development and production of sophisticated injection moulds and plastic parts in 1K and 2K technology for customers in the automotive, household appliances, electrical engineering and optical industry. Around 35 employees work for our owner-managed company in the heart of Europe.
Since June 2021, KON-FORM is part of the Schock Metall Group, a family-owned German group of companies based in Urbach near Stuttgart. In addition to sales and development, the core competences also include the production technologies roll forming, punching, powder coating and assembly of components.
The company Schock Metallwerk GmbH, founded in 1971, is one of the leading manufacturers of ball bearing slides and special profiles, based on in-house developed roll forming technology. With approx. 450 employees at locations in Germany, Latvia and the USA, as well as an international network of sales partners, Schock Metall is active in all important international markets.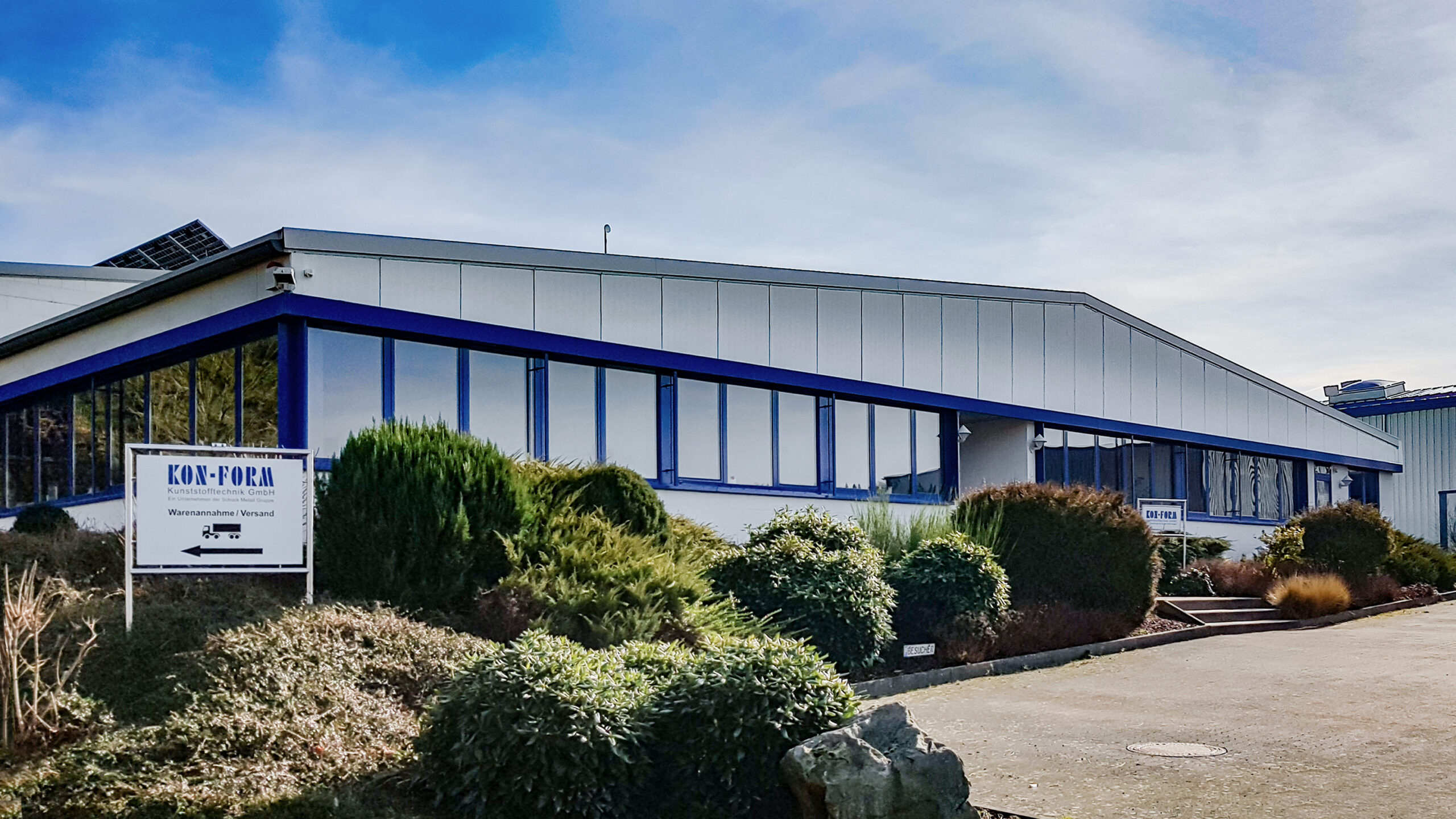 We want to contribute to the business success of our customers by offering high-quality individual solutions at economically attractive conditions and thus providing real added values.
We contribute to the success of our customers by
considering every customer requirement as an individual task that we actively take up. Therefore, we combine our speed and flexibility in decision-making with the honesty and integrity of an owner-managed company.
using powerful and efficient technologies that are the result of the interaction of experience, the know-how of our employees and the exchange of ideas with our customers in a spirit of partnership.
seeking new paths with curiosity and passion and driving innovations forward dynamically. We challenge the status quo and consistently improve successful strategies – creatively, but always with the target in mind and with a good dose of pragmatism.
Sustainable, economic activity with ecological, social and societal responsibility is part of our self-conception as an owner-managed company in its second generation.
Quality and environmental management
In 2001 we implemented the quality management system according to DIN EN ISO 9001and in 2005 we started with the environmental management system according to DIN EN ISO 14001.
Our principle of operation is in many sectors similar with the specifications of the IATF 16949.
Environmental management commitment
In the context of our environmental policy we commit ourselves to the continuous improvement of all environmentally relevant processes and preventing of environmental impacts, as well as the adherence of the environmental laws, regulations and demands witch are relevant for us.
Furthermore, we strive to satisfy our customers in their concerns, to react quickly and solution-oriented to problems and to constantly improve safety and order.
Since 2006, we have been using photovoltaics to generate an average of 68.000 kWh of electricity per year. In 2011, another system was added, generating a total of approx. 85.700 kWh of electricity. We are currently equipping all available roof surfaces with additional photovoltaic systems in order to sustainably produce our own energy needs. As a result, the capacity for electricity generation will increase to a total of approx. 300 MWh per year from mid-2022, which means a reduction of approx. 100 t of CO2 per year.
KON-FORM company history
As a medium-sized business, we know where we come from and what sets us apart: We focus on quality, perfection, flexibility and individuality. At the same time, we see ourselves as a development partner for our customers. Our collaborative approach to designing new solutions is innovative and flexible. We are creative in our core competency areas, and continuous process improvement is the focus of our work.
Milestones in our company history:
2021
As of 1st June 2021, the shareholders of the Schock Metall Group acquired the business operations, including the premises of KON-FORM Werkzeuge GmbH. Under the new firm KON-FORM Kunststofftechnik GmbH, the business areas tool and fixture construction as well as plastics processing and assemblies are being developed sustainably at the Reddighausen location.
2018
Expansion of storage capacity by establishing an additional hall.
2016
Construction of a new warehouse on the company premises.
2015
Introduction of the first all-electric injection moulding machines.
2010
Implementing of a machining centre for 5-axis simultaneous milling for toolmaking.
2006
Installation of a photovoltaic system with 80 KW power on the roof of the company building.
2004
Expansion of production and storage area to create space for new machines.
1998
New building in the street Am Lehmberg 1. Expansion of production capacity with optimised workflow from raw material to final product.
1990
Conversion of the old barn into a production and office site. Enlargement of the service portfolio to include series production of technically demanding plastic injection moulded parts.
1987
Hermann and Matthias Richard establish the KON-FORM Werkzeuge GmbH on October 1, 1987 with 5 employees, focussed on design and mould making for die casting and injection moulding tools. Production initially takes place in the hall in Bernhard-Rolfes street in Hatzfeld-Reddighausen built in the year 1967.